0 Comments
Wednesday, May 29, 2013
| by
admin
Happy Monday, ALEL readers! It's been a while since we've featured a shop with plants, so I figured it was time to share a little green love and introduce everyone to The Little Succulent Shoppe. California-based Stacy makes the most beautiful wreaths, terrariums, centerpieces, and more from beautiful succulent plants. Take a peek at a few of my picks from this exquisite shop!
Heart Wreath
This 13-inch Heart Wreath is perfect for the autumn season! It is adorned with live succulents in gorgeous fall green, yellow, orange, and brown shades. Purchase one for yourself, or give it as a breathtaking wedding, birthday, or housewarming gift. Prefer a different shape or different colors? You're in luck because Stacy takes custom orders too! She even includes an information sheet along with each wreath order so you'll know how to care for your wreath and enjoy it for years to come!
DIY Succulent Terrarium
This under-the-sea inspired terrarium would be great for your office, your coffee table, or even as a centerpiece for a beach wedding! The terrarium kit includes a glass bowl, succulents, sand, shells, driftwood, care instructions, and more, so that you can create your own beach-inspired escape!
Fall Succulent Centerpiece
I love the pop of color in this piece! The bright orange pumpkin with the pretty succulent greenery just makes me smile! Are you hosting a Halloween party or Thanksgiving dinner at your home this year? If so, you just have to pick up one of these seasonal pumpkin centerpieces to spice up your celebration! Great news - once the autumn season is over, the succulents can easily be replanted into another container.
Succulent Centerpiece
The above centerpiece is so sweet! I am drooling over the pairing of the lovely rustic wooden box with the beautiful arrangement of colorful succulent plants. I would love to have a piece like this; I would put it on the windowsill above my kitchen sink!
I have a huge love for natural feathers, crystals, stones and earth inspired adornments! Spirit Tribe is all of these combined along with so much genuine love and healing intentions inscribed in each and every hand designed piece!
I'll let these beautiful earthy adornment masterpieces speak for themselves!
Gaia's Daughter Bohemian Headdress - Four Directions Turquoise Hoop Feather Earrings - Mitakuye Oyasin Feather Dreamcatcher Necklace - Crystaline Quartz African Coral Agate Hoop Earrings
Takoda Rain, the amazingly talented shop owner and designer, is inspired by nature, the elements and spirit. Living in northern New Mexico, she is able to share the magnificence of her surroundings by incorporating this inspiration into her work. Her shop is full of beautifully crafted jewelry, dream catchers, cuffs, and headdresses for the wild at heart! I personally own one of her pieces and I have to say, it is my favorite piece of jewelry I own! Takoda pours so much love, heart and soul into each work of art and I am blown away by it. You can really see it in her work. :)
Takoda uses only the finest quality materials that are sourced as locally as possible. I absolutely love how she states the healing qualities and benefits of each stone, crystal, feathers and the significance of the animal totems meanings and teachings in each listing! The healing properties of these natural elements are totally intriguing and wonderful to know!
Her shop is without a doubt one of my top favorites on Etsy… which says a lot! :)
Old Magic Deerskin Turquoise Onyx Coral Bone Necklace - Wild Child Tribal Feather Ear Cuff - Rainbow Warrior Silver Chakra Stone Feather Earrings - The Dream Catcher
How beautiful is her work?! Today you might just have a chance at winning the beautifully designed turquoise, rooster and peacock feather earrings pictured below, because Takoda is generously giving them away to one A Little Etsy Love reader! If you can't wait to find out if you are going to be the winner ;) they are available in her shop and are even on sale at the moment!
An artist since hands could hold a crayon, instead of coloring, River specialized in drawing monsters on the pages of color books. Always inspired by surroundings, the seen and unseen, since then has progressed further into multiple fields of artistry. Inspired by all that was and what shall remain, Ghost has infused his eye with River's able creations Seeing what others have passed by, his ideas and imagination surpass any dreams. With two hearts lying upon the spiderwebs, all creations have been made with an energy lit by Ghosts, by ancestors, by Creator. Experience the artistry of Ghost River Art.
Hand-Carved Bocote Curves with Raw Turquoise Inlay
Tribal Wooden Dread Bead
Hand-Carved Bloodwood with Antler Inlay
Elk Hide Arm Band
Great news A Little Etsy Lovers! One of our own, Felicia of Atmosphere Lamp Shades was contacted by Bust Magazine and scored a feature in their October/ November issue!! Go Felicia! She also just celebrated a birthday, so today, in honor of these occasions, Felicia feels like celebrating! Stay tuned for a generous giveaway. But first, take a tour through her etsy shop, starting with her lovely feature:
Boho Chic Lampshade - Retro Granny Square Lampshade
Felicia crochets a line of throwback, retro-style yarn lampshades. These beauties are full of holes to let the light shine through. One of these babies is the perfect accent piece for the boho-fabulous home.
My personal favorite is the first pictured "Boho Chic Lampshade" above. With 3 basic designs to choose from, chevron, granny square, and beautiful stripes, there's something for everyone.
Which one is your favorite?
1970s Groovy Lampshade - Bohemian Lampshade Retro Green - Boho Chic Lampshade
Felicia also creates a line of dreamcatchers as well:
Boho Hemp Dream Catcher - White & Blue Dream Catcher
This Tuesday I'm happy to introduce you to Julie Garland Jewelry; classic, wearable, beautiful and as always, handmade.
Julie has a myriad of hobbies along with making jewelry. She likes everything from yoga and red wine (a glorious combo if I do say so myself) to dancing, daydreaming and playing (dragons with her son& Trivial Pursuit with her husband).
I love how the following jewelry is both bright and earthy. (Also, I've been kind of into chevron and various shades of blue lately...)
*Brass Pendant Necklace *Green Quartz Earrings *Lapis Necklace
Classic silhouettes with a twist:
*Skeleton Key Necklace *Crescent Brass Necklace *Pearl Necklace Swarovski *Faceted Gemstone Earrings
Some pieces I felt embodied the essence of October:
*Brass Filigree Earrings *Spider Chain Necklace *Bronze Leaf Necklace
The Spider Chain Necklace would compliment any Halloween outfit/costume! Speaking of Halloween, I would love to know what you guys are dressing up as this year. I'm stuck between a zombie flight attendant (my boyfriend is a pilot), and bacon...
La Belle Vie. As I mentioned in my introductory post, I am a total sucker for nature-inspired handmade goodness. Rachel at La Belle Vie creates handmade nature-inspired jewelry with a boho vibe. Feathers, leather, and wire wrapped stones, does it get any better than that? Here are some of my picks from her shop: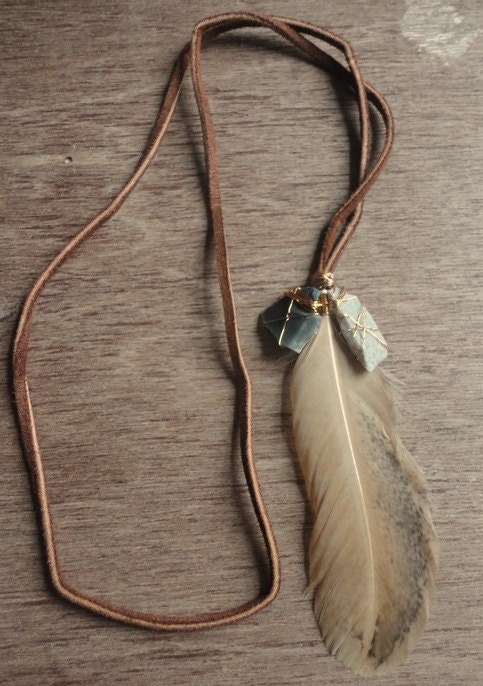 Did anything in her shop catch your eye?
Fashion Green T Bags. Most of us have way too many tees and tanks to even begin to know what to do with. We have t-shirts for sports teams, competitions, fashion, and In the hopes of reducing pollution, plastics, and deforestation, Linda at Fashion Green T Bags sought to create something useful out of reupurposed tees and tanks!
Grocery Market Tote Bags
Did you know that 14 plastic bags is the equivalent of driving one mile? Now you can conserve resources while supporting a handmade business!
BZR Shop. I'm really loving the current trend of dipping, dying, splattering, and ombre' color schemes.
BZR carefully hand dyes each of their ombre' tights to order. Each pair gradates so softly to create quite a stunning look:
For our final installment in the Tuesday Pre-Mother's Day series, I'm truly, from the bottom of my heart, excited to feature Woven By The Baker, an Etsy shop by the lovely and oh-so talented Kira Silver that specializes in weaving alpaca silk, wool, hemp and cotton. Since I myself am not a weaver, it's especially impressive to see the intricate, awe-inspiring scarves, cowls, and other accessories that Kira masterfully creates with a loom.
I love the Lion's Mane Cowl. This would be a gorgeously invaluable staple in any woman's wardrobe, especially with all the temperamental weather we've been having this year.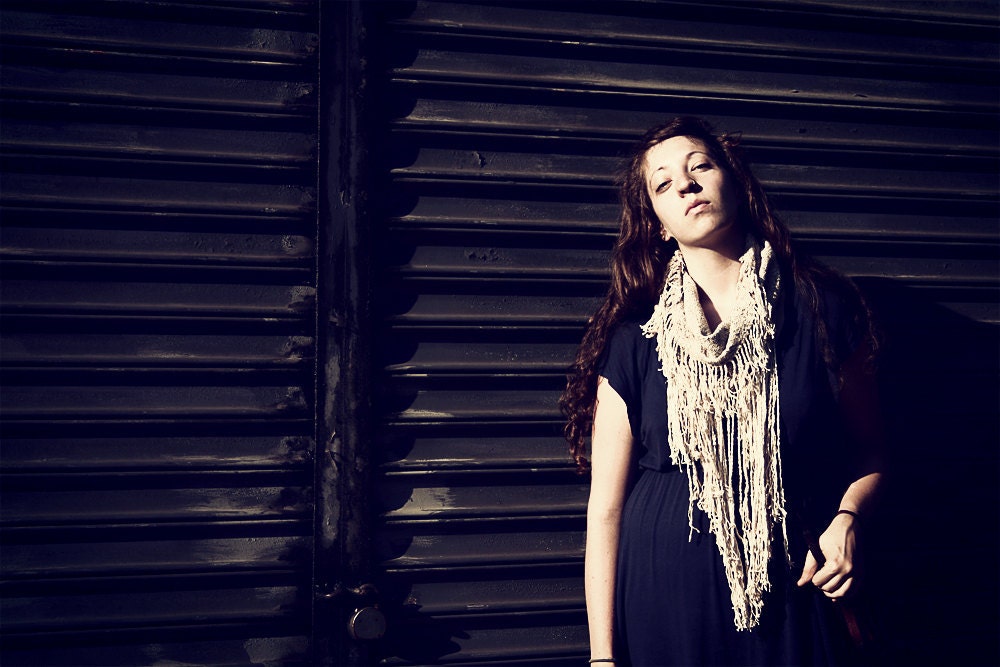 The Woven IPad Case is another personal favorite of mine. It blends the earthy aura that goes hand in hand with the art of weaving and the sleek modernity of the IPad. Also, who can resist those eye-popping colors? Perfect Mother's Day gift for those of you with tech-savvy mom's!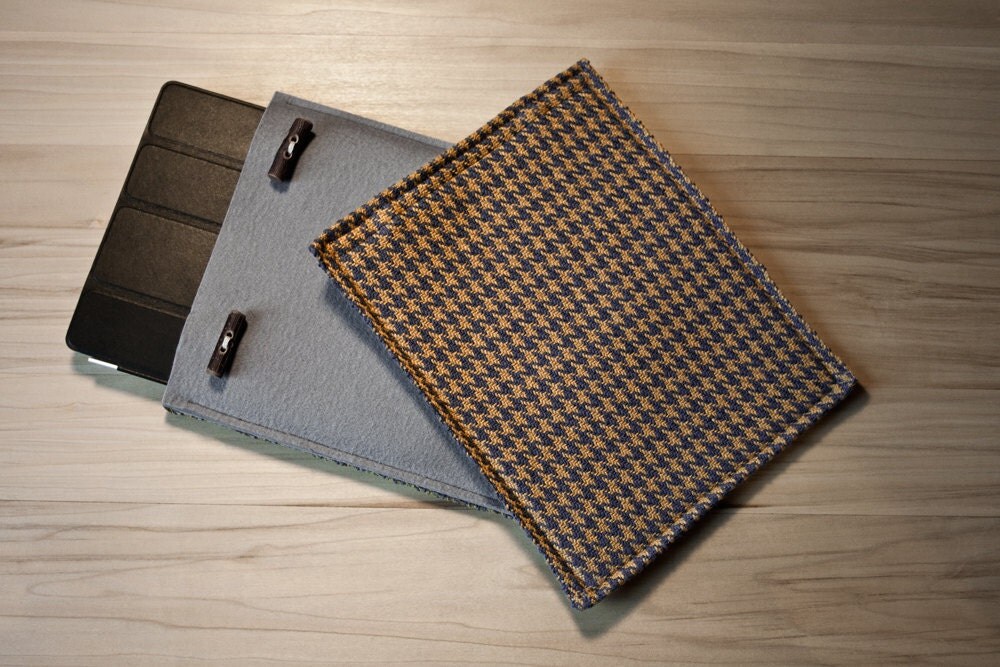 Pair this luxurious Casual Scarf with t-shirt and jeans and instantly amp up a low key look.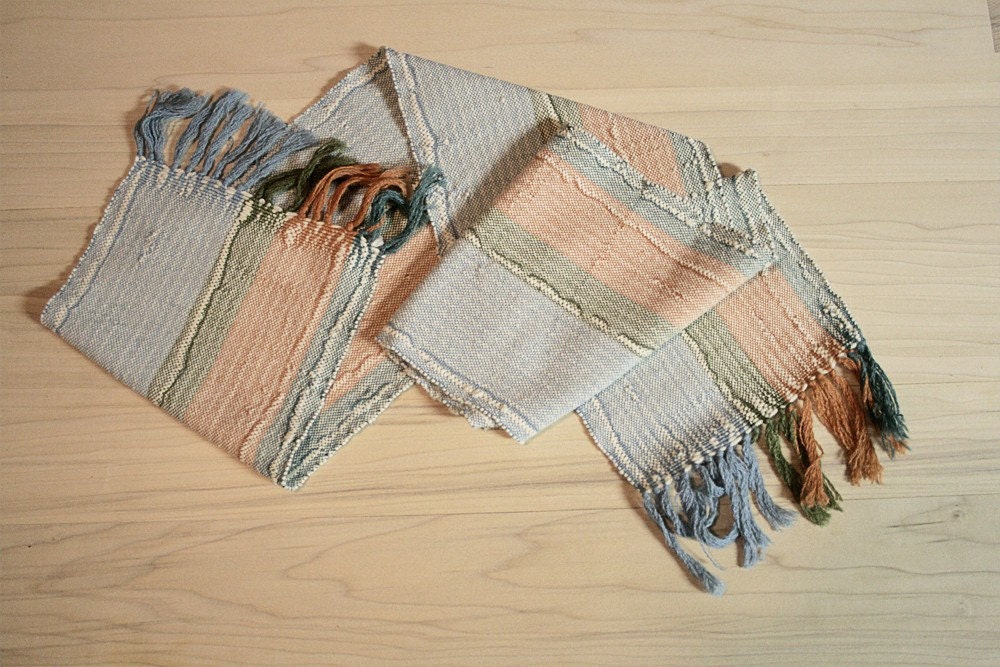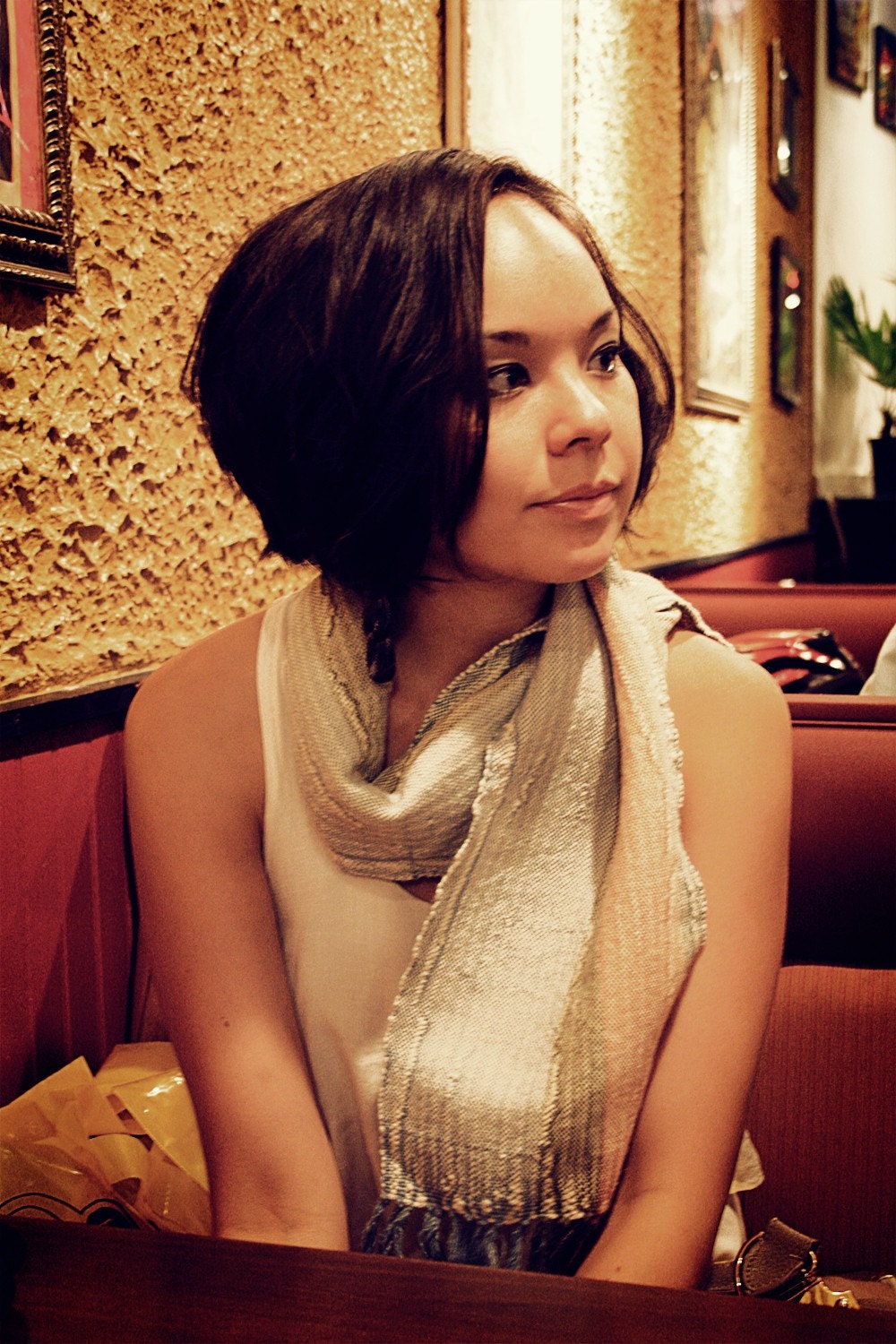 The Screen Printed Deck of Animal Cards made up of individual comic panels are exquisitely exotic and fun. Each animal is coupled with a unique phrase. "The animals of the red hearts and diamonds speak with glowing optimism. They are complemented by their evil twins, the far more pessimistic black suits who have quite a harsh lilt," Woven by The Baker explains. Probably the prettiest set of playing cards money can buy...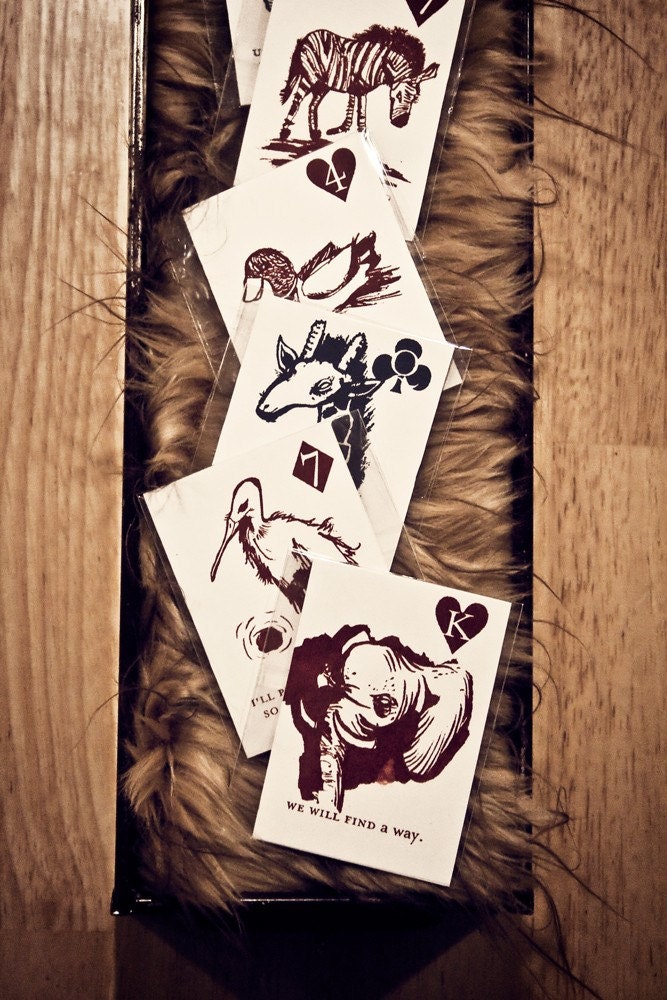 This beautifully woven green and silver striped scarf can transition effortlessly from casual day to dressy night.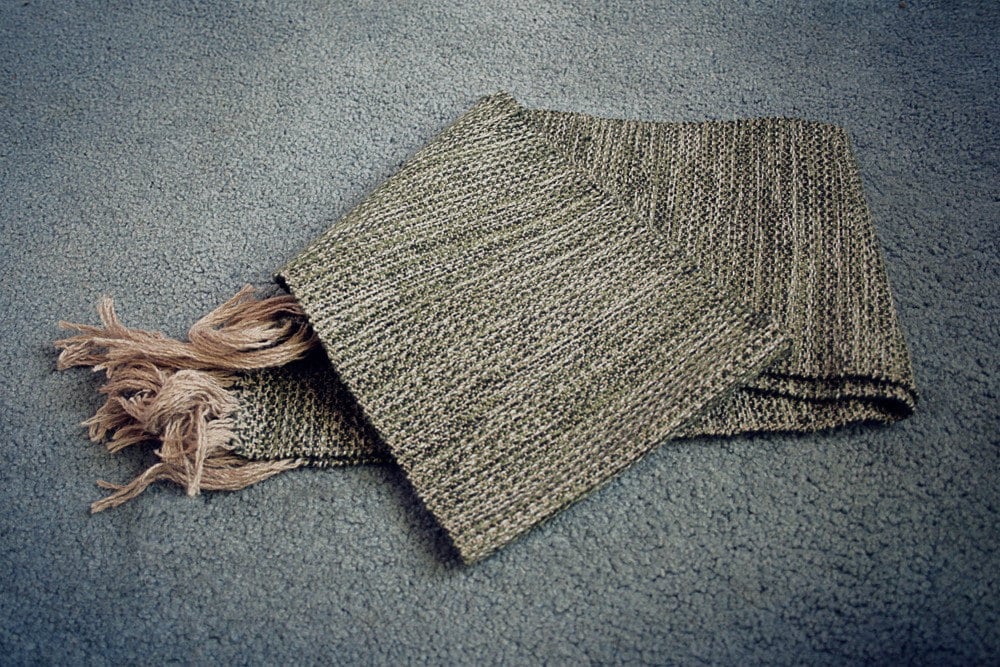 Out of Line is a lovely clothing shop owned by Seattle-based Beki.
Beki is extremely talented and her attention to style, fit, and detail is amazing (she has a degree in garment construction)... and I want one of each of her pieces. You are going to LOVE her Spring/Summer 2012 collection!
I am wowed by the intricate stitching in these two beautiful garments:
Shirt Necklace Top in Black Jersey
Triangle Dress in Granite Grey Jersey
This textured folded topstitching technique is so pretty and unique! I love how this detail adds something really special to these solid color garments!
Cherry Red Jersey Dress
Sleeveless Top in Pink Jersey
I want to FILL my closet with Out of Line items! Look at these comfy and cute top and skirt outfits!
Kick Skirt in Black and Taupe (with Square Top in Black)
Line Skirt in Olive (with Folded Olive Top)
Calling all cooks! You might be a world-renowned chef, a kitchen newbie, or somewhere in between... no matter what your kitchen expertise, you are going to LOVE The Hip Hostess, Michigan-based Debbie designs and sews three flattering apron styles. These are not your grandmother's aprons.. these are trendy, fashion-forward, and super-flirty! And if you get a little messy in the kitchen - don't worry - every piece is machine washable!
First, there's the Sheath Style Full Apron. I've definitely got this item on my wish list. I do 90% of the cooking and grilling at my house, so I like this one because it would protect my entire outfit (not to mention, the pattern, pockets, and flared skirt are super cute too)!
Brown Aqua Toile
The second style is the Demi Style Half Apron. This longer shape and cut would be perfect to wear while entertaining guests at your next dinner party!
Pink Mocha
The third style is the shorter, more flirty, Cafe Style Half Apron. This one is absolutely made for the fashion conscious waitress or barista (even if you are only serving drinks in your own home!)
Hot Pink Floral
I love the story of how The Hip Hostess got it's start! Debbie's daughter Andrea was a newlywed who wanted to have a trendy apron for her debut as a hostess. Debbie made a few sample aprons for Andrea, and soon everyone wanted one!
Now that you've seen the merchandise, I know you've picked out your favorite apron. But, you know that the special ladies in your life would love one too. If you order through the The Hip Hostess website, you can purchase beautiful gift packaging as well. Can't decide which apron to take home? You can also purchase a gift certificate.
OK friends, get yourself a cup of tea and settle in while I share one of the most beautiful etsy shops you can imagine. Maldonado is home to some of the most intriguing contemporary jewelry pieces to be found.
Omar is the talented creator behind these gorgeous designs, having hand crafted jewelry since his teens. The clean lines and subtle combinations fuse together into such gracefully simplistic designs. Each piece more mouth watering than the next. It was very hard to pick just a few to share with you.
Necklaces, earrings, bracelets, cuff links, rings, pendants, brooches, bookmarks a little something for everyone.
Happy Deliveries is the perfect name for this shop because I don't know how you could be anything but happy if one of these delightful prints were delivered to you! This shop is such a place of positive energy and encouragement!
See what I mean?
And I'm not sure if you know of my love for Alice In Wonderland or not, but I love, love this print! {I already know where I would hang it in my house!}